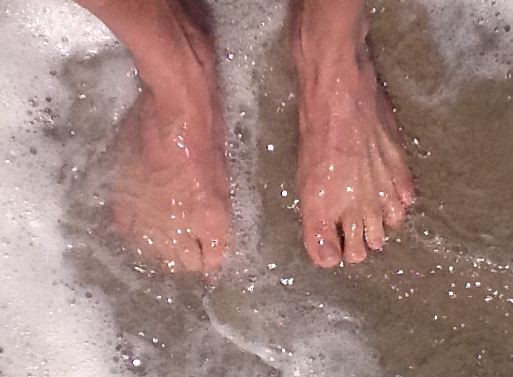 When the rising, lethal tide of the AIDS epidemic finally came swirling in around my ankles, I was caught off guard. Anchored by shame and mired in fear, I was ill-equipped to do little more than watch in horror as the deadly waters continued to rise around me. In retrospect, I wish I would have been more able to act – to hold tighter to those who were being dragged under – to be a better friend. But I wasn't.
By 1989, in the wake of my deceitful and failed relationship with Guy, I had been hiding my HIV diagnosis for almost three years. I had learned to rationalize my great lie of omission to almost everyone: friends, family, and even lovers. Two of the people who did know my secret, however, were the two college buddies who had also tested positive when we all were initially diagnosed together a couple of years earlier: DJ and the Model (cheesy pseudonyms used to protect their privacy).
Since the two of them had graduated, the three of us saw each other mostly at larger social gatherings: birthday parties, game nights, and pride parades. For the most part we were all getting on with our lives in one fashion or another. By early 1989, however, it became increasingly difficult to deny the fact that DJ's health had begun a rapid decline. One day, DJ's concerned roommates called a few of his friends for help because they were not sure what to do about his worsening physical condition. In retrospect, in addition to everything else that was going wrong with DJ's health; he was very clearly suffering from a debilitating case of pneumonia. We called 911 and all watched as the paramedics came and took DJ away.
Sometime after that, I visited DJ in the hospital. He was lying in bed. Prone in the unforgiving florescent glare of the stark room, the malignant Kaposi's sarcoma lesions were clearly visible on his neck and face. Those blood-red splotches on his once radiant complexion undeniably communicated the nature and severity of his illness. When the doctor came into the room, he explained to DJ the laundry list of ailments that had overrun his failing body. The doctor suggested that treating the cancer was an option; however that course of action would be highly taxing on someone in such a weakened condition. Eventually, the doctor asked DJ what he wanted to do.
I recall DJ's response verbatim. His voice was a bit shaky. "I don't want to die," he said.
That was the last time I remember seeing him.
When trying to piece together the facts and timeline for this installment about DJ, I queried a couple of the queers who were also there at the time. The response from one of my friends was a handful of photos; one of which shows me and DJ at the Model's college graduation in 1985. In the photo, DJ is 22 years old and I am all of 21. We both look shockingly young, but I appear especially adolescent – with my mid-eighties shag and crooked, toothy smile. The image has the two of us happily captured a year prior to being diagnosed with HIV; just before the axis of our entire existence would irreversibly shift forever. In addition to the pictures there was something far more surprising. There was a letter from DJ himself.
You see, DJ had written a letter in July of 1989 and sent it to a mutual friend. On the outside, back of the small, orange envelope there was a hand-written instruction, "You can pass this letter on to the others, or make a copy. Whatever works. Or you can even just read it to them." The request is followed by a parenthetical containing the names of the three others. Mine is one of those names. And so it was that I came to read DJ's letter for the first time. Twenty-five years after it was written.
The letter is dated July 4, 1989. It was written while DJ was in residence at some kind of alternative healing center somewhere near Santa Cruz, California. In the letter he talks about life at "Camp Helen" including a seventeen-day fasting period during which all he had for sustenance of any kind was water. "In just 3 ½ weeks, I have almost completely regained my perfect health. The lesions are fading right before my eyes!! This is it. I've learned so much and I hope to share my experience with others." The letter ends with this; "Most importantly, I'm back in touch with my spirituality. I have a whole new life ahead of me. Part of it includes returning to my longtime passion of songwriting. So, I'm off to play my portable Casio now. I've gotten to play it a lot lately. I'm so happy! May you all have inner peace & joy today!! Love, Tony."
Tony Hudson died five months later on December 14, 1989.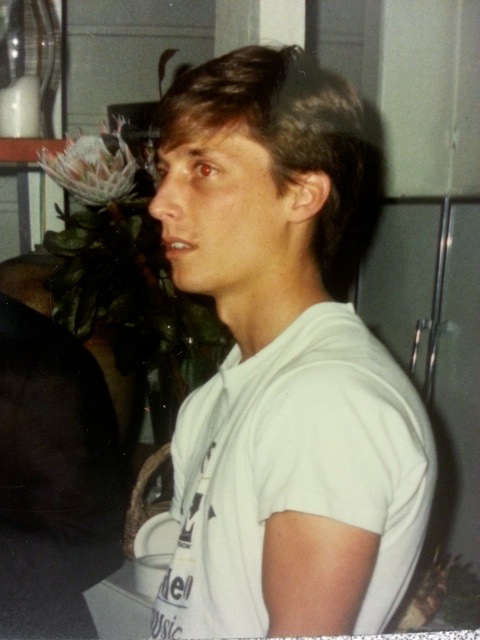 It seems now that continuing to hide my friend's identity would only serve to perpetuate the poisonous shame that was, and in many ways continues still, to be associated with the disease that stole his life.
Immediately after his death, Tony's family absconded with his body and refused to communicate any plans for a service to Tony's friends. This disappearance of the recently deceased was not an uncommon occurrence in a time when acknowledging an AIDS death in a family could result in blanketing the entire clan in embarrassment and disgrace. So those of us, who in many ways knew Tony best and loved him most unconditionally, were denied any kind of traditional closure.
Our community, of course, found ways to address the pain inflicted by the death of a loved one gone missing. We created alternative kinds of rituals – ones that didn't necessarily require a corpse to bury or ashes to spread. We lit candles. We gathered at memorials. And – as so beautifully dramatized in the 1988 play, Andre's Mother, by Terrence McNally – we released helium balloons, and watched them disappear into the ether hoping that the pain of loss – intensified by the sting of exclusion – could somehow also be let go.
And, of course, we sewed.
According to The Names Project website, the Aids Memorial Quilt was officially conceived in 1987. A group of caring compatriots gathered in a San Francisco storefront to begin the construction of something that would help document and commemorate the lives of people who they feared that history might neglect. Because we were never sure if Tony's spirit had ever been properly honored by his family, a small group of us got together over a period of weeks in a little West Hollywood apartment sometime after Tony's death and whip-stitched up a fabulous 3' x 6' quilt panel for our loved and vanished friend.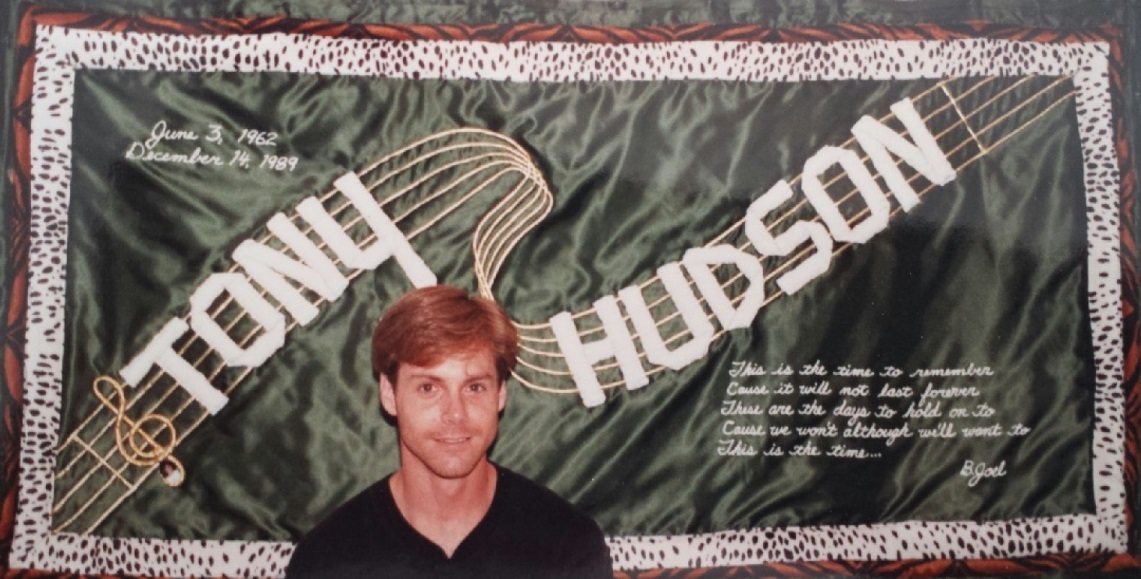 The main fabric of the piece was a shimmering, emerald satin – in homage to Tony's eyes. The quilt was was bordered in faux Dalmatian and tiger fur, and his name was written across a large music staff in the center of the panel. In the bottom, right corner, inscribed in puffy glaze, were lyrics from a song by Tony's musical idol – Billy Joel, "This is the time to remember, 'cause it will not last forever. These are the days to hold on to, 'cause we won't – although we'll want to. This is the time…"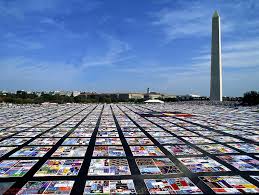 In 1992, our little sewing circle made a proud pilgrimage to Washington D.C., where Tony's quilt was displayed on the lawn in the shadow of the Washington Monument with more than 10,000 additional panels. Today the quilt has grown to more than 48,000 panels in all. The massive scale is a sad and staggering reminder, but it comforts me to know that it will be impossible for history to ever neglect a binky of that magnitude.
As for Tony, I trust that he would consider this brief reflection about him and his long lost letter an additional honoring of his spirit, and a supplemental – albeit modest – celebration of the all too brief but brilliant life that he led. And if I could send a letter back to him now, it would say this:
Dear Tony,
I just now got your letter from Camp Helen! I know my response is a quarter of a century or so late in coming. You've now been dead for almost as long as you were alive. My apology for the delay, but it turns out that the universe sometimes works in astounding ways. By that I mean to say that I think your letter arrived to me at just the right time. You see I am in the middle of a writing project through which I am trying to dissect the nature of my existence here on earth, to create a kind of historical legacy for my son, and attempt – often clumsily – to repair my long estranged relationship with God (feel free to put in a good word – only, of course, if you feel an appropriate circumstance arises – yo, like avoid mentioning anything on or around any of the Holy Days of Obligation for sure).
Anyway – back to your letter. You wrote to us just a few months before you died, and 25 years later I find myself hugely inspired by your effusively hopeful tone (as evidenced by your excessive use of exclamation marks). Much of what you say is profoundly relevant – not only to me – not only now – but just in general to all of humanity – forever. For example, you say, "I've learned so much and I hope to share my experience with others." You see, more and more I have come to believe that it is just critically that – the very act of sharing – that brings us closer to one another, and therefore closer to God. I think that as our knowledge of others grows, we recognize that even in the starkest differences between us there are undeniably sacred commonalities. And I believe that the greatest hope for our salvation – our savior – resides in our reverence of that deep-running sameness. We must honor that sameness. We must get to know one another. We must share.
You go on to say that most importantly you are back in touch with your spirituality. Amen to that, sister! I am right there with you. Amen!! And you recognize the reality that you – as all of us do – in every living moment – have a whole new life in front of you. I know that I have a whole new life before me, and I try to thank God for it every day.
You also mention rediscovering your passion for songwriting and that you were dedicating some time to allowing your spirit to express and explore that artistic gift. I know that God must get some extra special satisfaction when he sees us dancing in the uniquely special pin spot that he has hung and focused on each and every one of us. Does he? Ask him! I bet he does!!
And you were happy when you wrote that letter. "I'm so happy!" you say. Of course you must have also been an emaciated twig – 17 days with only water! Good Lord, Tony, what the hell was Helen thinking?! Crap. I digress. Ugh. Anyway, knowing how happy you were way back then makes me exceedingly happy today.
Finally, in your closing, you end with a universally apt and profoundly sincere wish; inner peace and joy to all.
Thank you for the letter, my friend. Thank you for the wish. And thank you for sharing. I love you.
Finally, although it may long be water under the bridge, I would like to apologize to you for my inability back then to be more proactive. In retrospect, I am not specifically sure what I would have done differently. Those days are so far past. I wish my recollections of you and our time together was clearer. I have no doubt, however, that I could have been a braver ally and better friend to you; especially when the frightening tide was at its most high. Also, I need to confess that in my lowest times I have wondered why the likes of you were swept away and someone like me was left so randomly stranded. As a joyful penance, I pledge to you that I will do my best to live well, present, and fully for the remainder of my time on Earth. And when next we meet, I will be eager to share all that I have learned with you.
That's it, I guess. Now, get back to your portable Casio and compose something danceable – I mean like halo-banging, take off your sweaty wings, and grind up on that hot angel next to you – kind of danceable!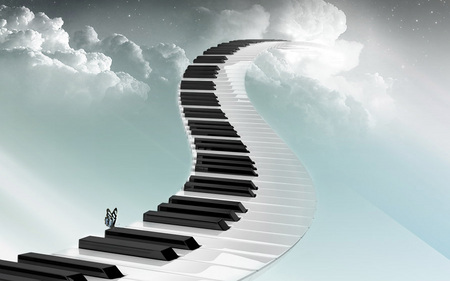 And I will forever keep one ear cocked slightly skyward – in hopes of catching the distant rhythm of your pulsating, heavenly beat.
Wishing you eternal peace and joy!!
Love,
Jim